Relieve Your Parental Worries! Secure Top Grades With INDIVIDUAL Online Home Tuition!
Struggling with Complex Subjects? Falling Behind in School?
Yes, I Want to help my child!
Confused by Challenging Subjects? Lagging Behind in Class?
Is your child not reaching their full academic potential?
In today's competitive world, finding the right educational support is crucial. Traditional classrooms fail to offer the personalized attention students need for success.
That's where Angle Belearn comes in. Give your child the advantage they deserve with Angle BeLearn's personal online tuition classes. Watch them excel and thrive academically.
"Imagine how disappointing and frustrating it can be for your child when they don't grasp a lesson and have to interrupt the class to ask the teacher for help."
"It's a struggle both the students and their parents have to face everyday."
5 Reasons Why You Are Seeking
Personal Tuition Classes!
5 Reasons Why You Are Seeking Personal Tuition Classes!
Falling Grades
In a classroom, students often struggle to keep up with the lesson's pace, which can lead to a lack of understanding of key concepts, ultimately resulting in failing grades and academic setbacks.
Lack of Personalized Attention
Large class sizes often mean students don't receive the personalized attention they need to help them learn complex topics. Parents then have to witness the frustration and disappointment for their child.
Lack of Confidence
The classroom environment can be intimidating, making students hesitant to ask questions and eroding their confidence in their abilities. It can make them feel unprepared and uncertain, affecting their overall self-esteem and enthusiasm for learning.
Missed Opportunities for Higher Education
Without the right academic support and guidance, students might not reach their full potential. This could mean they miss out on chances for better education and future careers. Falling short of the requirements can limit their options for higher education and career paths.
Academic Stress and Anxiety
The pressure of keeping up in class and the fear of not understanding the material can lead to academic stress and anxiety in students. Students have to stand the constant pressure to perform well, which makes it hard for them to concentrate on their studies.
How Angle's One Teacher One Student
Approach Beneficial For You!
How Angle's One Teacher One Student Approach Beneficial For You!
At Angle Belearn, we're committed to offering one-on-one tutoring, tailored to the needs of your child. Our experienced tutors are dedicated to your child's success, boosting their confidence, and guarantee academic excellence.
1 on 1 Class Room
Only one student and one teacher in each class which ensures 100% individual attention.
Instant Doubt Clearance
No hesitation for students to ask doubts as there is no other students in the classroom.
Customized Teaching
Teachers teach according to strength and weakness of students. So that students can learn at their own pace.
Continuous Evaluation
Teachers evaluate students in each classes in addition to the chapter wise exams.
Monthly Report
Detailed progress report are sent to parents on a monthly basis.
Preferred Time
Students can choose convenient time to attend classes (from 7 am to 11 pm IST).
Switch Tutors
Parents have the flexibility to change the tutors of their child if they feel unhappy with the present one.
Pay Only For What You Use
Instead of being confined by monthly or yearly plans, now you can opt for classes at your convenience. attend our hour-long classes and pay only for what you attend.
Expert Tutors
Angle boasts experts in every academic subject and in online individual tuition, guaranteeing one-on-one attention for each student's success.
Top University Graduates
We have highly skilled tutors with extensive subject knowledge and experience providing personalized attention, ensuring effective learning and academic growth.
Motivational Support
At Angle, we create a supportive environment, fostering confidence, motivation, and active student participation, nurturing well-rounded individuals.
Modern Digital Technologies
We employ modern teaching techniques like AI, 2D, and 3D animations to enhance lesson quality and engagement, making learning fun and enjoyable.
Regular Performance Evaluation
Regular parent communication and feedback drive improvements in our virtual learning environment and lesson quality, shaping a better experience.
Student-Centric Approach
We foster holistic student development, emphasizing academic skills, confidence, social abilities, and a passion for lifelong learning.
"Say goodbye to the monthly or yearly payment limitations of traditional tuition services.
We offer a very convenient pay-as-you-go plan where you only pay for the hours your child has attended."
Your One Stop for Everything!
CBSE Online Tuition
Angle offers highly experienced CBSE tutors, with emphasis on individual attention, quality study materials, and focused tuition.
ICSE Online Tuition
Our ICSE online tuition features highly skilled and experienced tutors delivering high-quality lessons with a focus on one-on-one teaching to enhance overall student performance.
IGCSE Online Tuition
Angle boasts great success in IGCSE tuition due to our expert tutors and the quality of lessons, the personalized attention and top tier study materials.
IB Online Tuition
Angle has veteran IB tutors, along with one teacher for one student atmosphere to boost the performance and confidence of the student.
Invest in your child's future with Angle's individual online tuition.
Don't miss out on this opportunity for your child's brighter tomorrow!
Yes, I Want to Help My Child
Learn What You Need – Complete Online Education for All Subjects
Dreaming of academic success? At Angle Online Tuition, over 1500 students reached remarkable heights. Let's pave the way to your dream exam scores and success!
Subjects include the following
Chemistry
Biology
Economics
History
Science
Physics
Business Studies
Political Science
Hindi
French
Computer Science
Accounts
Accounts
Political Science
Arabic
German
French
Sanskrit
Malayalam
A Comparative Study: Students without Individual Tuition vs. Students with Individual Tuition!
Individual tuition plays a crucial role in improving the results of the students as it provides personalized attention to students.
The one-on-one interactions help to identify and address specific learning needs, leading to better academic performance.
Also, numerous students are known to get more motivated when they are in one to one tutoring classes as they find it a more supportive learning experience. In this comparative we will be discuss the following:
Challenges faced by students without individual tuition
Benefits of one to one tuition
Student growth after getting individual tuition
Challenges Faced by Students
Without Individual Tuition
Large class sizes make it difficult for teachers to address the unique needs of each individual student.
Students often struggle to get clarifications or extra help catered to each student to help them grasp complex topics.
Teaching methods in a group setting may not be in sync with the learning styles and pace of individual students.
Without one-on-one interactions, students may lack constructive feedback on their progress.
The absence of personalized support can hinder their overall academic development.
Percentage of Students Who Understands The Class Without Individual Tuition!
We have conducted a survey on students without any individual tuition classes which has shed light on several key academic experiences and challenges faced by this group.
Many students felt that the classes were not going at a pace suited to them, they could use more explanation and clarification in certain areas. The key findings of the survey have been listed below.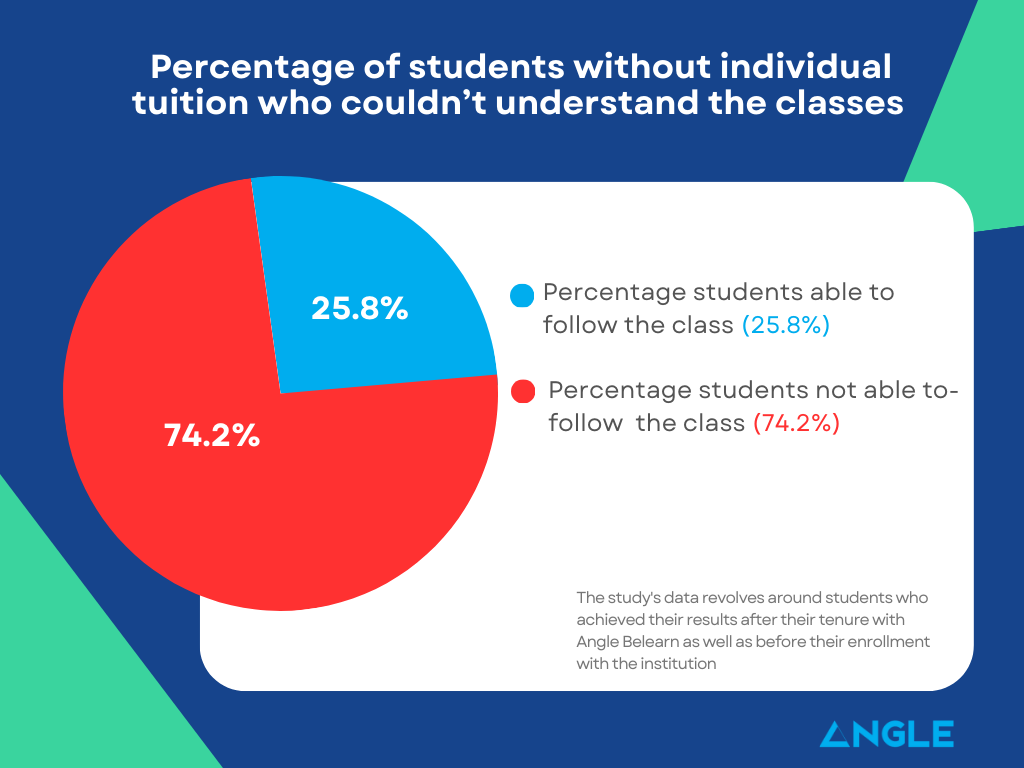 Benefits of One to One Tuition
Students receive undivided attention and personalized lessons from the tutor to address the specific needs of the student.
More time can be spent to address the questions and concerns of the student to help them better understand the topics.
Tutors tailor the one on one classes to match the individual student's learning style and pace.
Lessons can be focused on the areas where the student needs most help.
Percentage of Students Who Understands The Class With Individual Tuition!
We have conducted a survey of the students who have been a part of our one on one online tuition at Angle Belearn for at least 12 months. Several key insights have been gained from this.
Students generally felt very satisfied with the one to one class. They could understand the topics being taught better and their enthusiasm for learning was greatly improved.
A Quick Comparative Analysis
| Aspect of Students | With Individual Tuition | Without Individual Tuition |
| --- | --- | --- |
| Average Grade of Students | A | B |
| Students feeling lack of proper clarification for their doubts | 0.5% | 40% |
| Students reluctant to raise questions | 0.4% | 30% |
| Students not able to properly understand the lessons | 0.6% | 35% |
| Students felt distracted during the class | 1% | 40% |
| Students feeling class pace too fast/slow | 0.2% | 35% |
Source: The study's data revolves around students who achieved their results after their tenure with Angle Belearn as well as before their enrollment with the institution
Comparison Study Performance of Students With & Without Individual Tuition!
On comparing the results of the survey, the positive impact of individual tuition on students' academic performance and confidence is clearly evident. Students receiving individual tuition at Angle experienced a significant increase in their average grades, from a 'B' to 'A.' This substantial improvement highlights the effectiveness of personalized instruction and the quality of our teachers.
Furthermore, students showed more confidence in the topics covered during one to one tuition sessions.
A very minimal percentage felt uncomfortable with the lesson pace, which we are actively working to improve and bring it down to zero.
More notably, a higher percentage of students felt their concerns and doubts were addressed better in one on one tuition classes than their normal classes, which indicates a more supportive learning environment.
Watch them thrive academically & gain the confidence to succeed!
Don't miss out on this opportunity for your child's brighter tomorrow!
Yes, I Want to Help My Child
Student Distraction Rates!
One key takeaway from this study is the marked reduction in distractions in the one teacher one student scenario, with only a few students reporting such issues.
This is another major benefit of focused, one-on-one learning. From the graph, the benefits of individual classes in boosting the confidence and learning experience of the students at Angle is very much evident.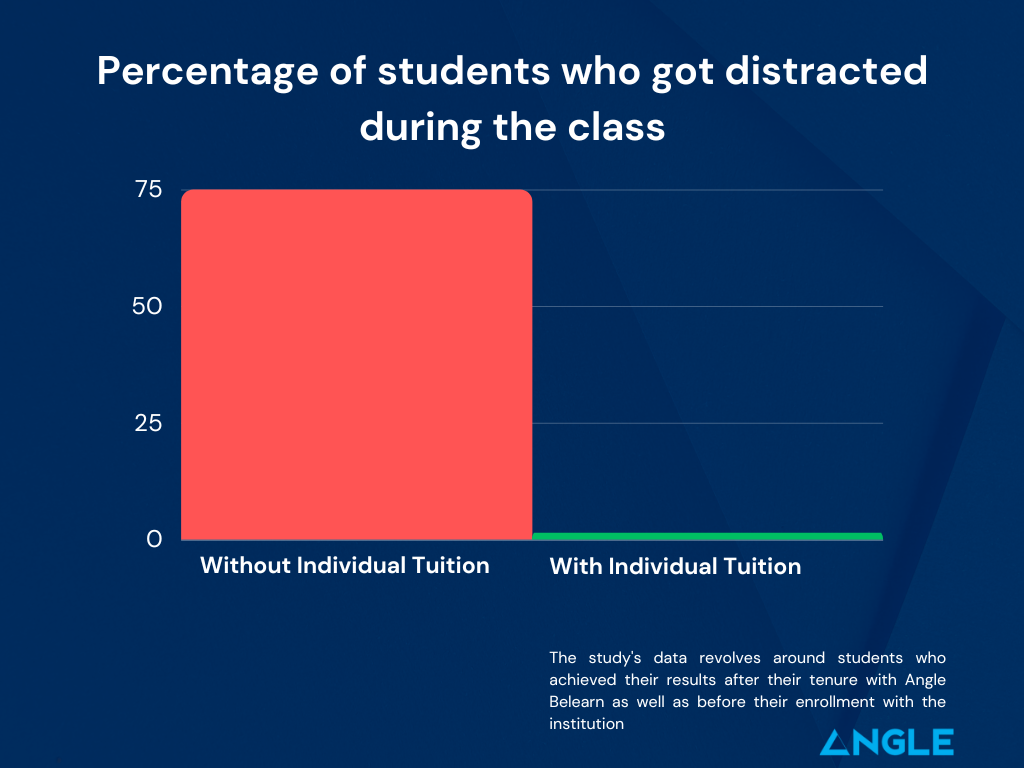 Our Findings
The survey result shows that Angle has been able to address the reluctance of students to raise questions and doubts in a classroom setting successfully through one to one tutoring.
It encouraged students to be more proactive in seeking answers and clarifications, thus fostering a more engaging and productive learning experience. The comparative study reaffirms the value of one to one tutoring classes in enhancing the educational journey at Angle Belearn.
The study tells us that the major benefits of one-on-one tuition at Angle are:
Students who received one-on-one tuition experienced a remarkable increase in their average grades, going from 'B' to 'A,' emphasizing the effectiveness of individual instruction at Angle.
Individual tuition helped to develop a greater confidence in students, making them more assured in the topics they were learning, showcasing the positive impact of one-on-one tutoring.
Angle is actively working to ensure individual lessons match each student's learning speed, improving the experience of one-on-one online tuition classes.
A higher percentage of students found their concerns and doubts were addressed better in a one teacher one student environment compared to group settings, which showcases the value of one-on-one tutoring in creating a supportive learning environment.
A higher percentage of students found their concerns and doubts were addressed better in a one teacher one student environment compared to group settings, which showcases the value of one-on-one tutoring in creating a supportive learning environment.

Angle's commitment to addressing students' reluctance to raise questions and doubts in a classroom setting through one-on-one tuition further shows the value of this approach in developing a more interactive and productive learning journey.
Help Your Child With Individual Tuition for Brighter Future!
One to one tuition at Angle Belearn is aimed at boosting the confidence of our students in every subject.
Our one to one tuition classes offer personalized attention to each of our students that is lacking in a classroom. And we have achieved remarkable results with our one teacher one student approach.
Major benefits of Angle Belearn online individual tuition:
Significant Improvement in Grades
Enhanced Confidence in Students
Minimized Distractions
Personalized Pace
Improved Doubt Resolution
Invest in your child's future with Angle's individual online tuition.
Don't miss out on this opportunity for your child's brighter tomorrow!
Yes, I Want to Help My Child
Why ANGLE is The Best Online Individual Tuition for Students
| Angle Tuition | Other Tuition |
| --- | --- |
Mode of Class
| | |
| --- | --- |
| Live one to one classes | Group classes or recorded classes |
Doubt Clearance
| | |
| --- | --- |
| Students can confidently ask doubts as there are no other students in the class | Students show reluctance to ask doubts in a group class and can't clear doubts instantly in recorded classes |
Personal Attention
| | |
| --- | --- |
| 100 % personal attention for students as there is only one teacher and one student in the class | Student does not get enough personal attention, which will reflect in their grades in school/board exams. |
Subjects
| | |
| --- | --- |
| Angle provides tuition for all subjects, out of which you can choose the subjects you need | Need to choose and pay for the whole subject package |
Time Taken
| | |
| --- | --- |
| Student can learn at comfort of home and can avoid travelling time | Traveling to tuition centre can be time consuming |
Fee
| | |
| --- | --- |
| Fee is charged per hour, so pay only for classes you attend | Fee is paid for a whole year or month |
How to Find The Best Online Home Tuition in 7 Steps!
We know how challenging and overwhelming it can be for parents to navigate the world of online and home tuition. The myriad of options, ranging from substandard to genuinely good services, can pose a challenge.
Deciding between online or offline tuition, classroom settings, or one-on-one tutoring adds to the confusion. Identifying a platform that perfectly fits your child's needs and supports them in their aspirations becomes a daunting task.
Distinguishing between genuine services and marketing tactics is yet another puzzle. These challenges can be intimidating, but we're here to assist you through this maze of options, aiding in finding the most suitable online home tuition for your child's academic success.
Let's embark on this journey together. Let's navigate through this journey together!
Your 7 Steps to Find The Best
Online Tuition Classes!
Your 7 Steps to Find The Best Online Tuition Classes!
Step 1: Identify Your Needs
1. Clearly identify the subjects you need help with.
2. Look into your budget for tuition and decide on the number of sessions you can afford in a week.
3. Research on different teaching styles- group vs individual tuition – and their benefits and select the one more suited for you.
Step 2: Search for Trusted Platforms
1. Check out reputable tutoring platforms like Angle Belearn to explore diverse tutors and their specialized subjects.
2. Read reviews and discover the experiences of other students or parents who have utilized the platform.
Step 3: Verify Company Credentials
1. Look at tutors specialized in your subject of need.
2. Check for their qualifications, experience, and teaching style.
3. Make sure they have the relevant degrees or certifications.
Step 4: Opt for Interactive Tools
1. Choose platforms with interactive tools for a better online learning experience.
2. Look for whiteboards, video calls, and chat options.
Step 5: Assess Teaching Methods
1. Discuss your preferred learning styles with the potential tutors.
2. Ensure their teaching methods match your learning style.
Step 6: Try Trial Sessions
1. Most of the online platforms offer trial tutoring sessions. Take advantage of these sessions.
2. Use these to check if the teaching style aligns with your needs.
Step 7: Communication and Support
1. Ensure tutors are responsive and address your concerns promptly. Choose a platform that has a good support team.
2. Seek a supportive learning environment for effective online tuition, where you can feel comfortable raising your doubts and asking questions.

Choosing the ideal online tuition platform and tutors necessitates thorough research and exploring various available options.
It is often a process of trial and error.
Remember, if the current tutor doesn't align with your learning style or falls short of expectations, don't hesitate to explore other options.
Effective communication and feedback play an important role in creating a satisfying online learning journey.
By actively engaging with the platform and tutors, parents can ensure their child receives the best-suited learning environment for their academic success.
Choosing the Right Online Home Tutor-
7 Essential Qualities to Look For!
Choosing the Right Online Home Tutor: 7 Essential Qualities to Look For!
Choosing the right online home tutor is the most important part of your child's educational journey.
Discovering a tutor equipped with essential qualities fosters a supportive, engaging, and effective learning environment, laying the groundwork for a successful future.
In the vast landscape of online tutoring, identifying the best match for your child can be a rewarding but challenging endeavor.
Finding a tutor with profound subject knowledge and the ability to impart it effectively is key.
Additionally, experience in teaching children of your child's age group, especially in online settings, can significantly contribute to a positive learning experience.
The tutor's ability to adapt their teaching style to your child's pace and learning preferences is equally important.
Expertise in the Subject
Search for a tutor with a deep understanding of the subject matter and is able to effectively teach it to his/her students.
Teaching Experience
Look for tutors experienced in teaching children of your child's age group, especially in online settings.
Adaptability
Find a tutor who can adjust their teaching style to match your child's pace and learning preferences. They have to be understanding, patient and supportive when dealing with topics that are difficult for your child.
Engagement and Motivation
A good tutor keeps your child engaged and motivated with innovative and interactive teaching methods. He/she should foster in your child a passion for learning.
Availability and Flexibility
Ensure your child's availability matches with the schedule of the tutor. Tutors who are open to scheduling changes should be preferred.
Feedback and Assessment
Look for a tutor who offers regular feedback on your child's progress. Assessment conducted should identify the weakness areas of the child the lessons should be tailored accordingly.
Technology Proficiency
The tutor should be adept in using online tools and platforms, such as video conferencing platforms and online whiteboards, for effective teaching.
Selecting a tutor who has these qualities ensures your child receives a fulfilling and enriching online learning experience, paving the way for academic success.
Strategies for Getting the Best from
Your Individual Tuition Experience!
Strategies for Getting the Best from Your Individual Tuition Experience!
After selecting an online tutor, establishing effective communication and fostering a positive learning atmosphere are crucial for academic success.
As a parent, it becomes your responsibility to ensure your child maximizes the benefits from this educational opportunity.
Encourage open dialogue and a supportive environment, empowering your child to actively engage with the personal tuition teacher.
This active participation enhances the learning experience, facilitating a better understanding of subjects and boosting academic progress.
Here are some strategies for building a strong foundation for learning in private tutoring:
1. Set Clear Goals
Define specific learning objectives with the tutor that need to be achieved in the classes. Clearly establish what is the end result that your child wants to achieve, be it better grades, deeper understanding of a topic or improved study skills.
2. Open Communication
Ensure that there is an open dialogue between you, your child and the tutor.
Discussing your expectations and concerns and that of your child are of utmost importance. Regular feedback improves the quality of the lessons.
3. Active Participation
Encourage your child to ask questions, raise their doubt and seek clarification during classes. Active participation of students helps to improve their learning experience and to boost their confidence.
4. Consistent Schedule
Keep a regular tutoring schedule to establish a routine and make learning more effective.
5. Practice and Reinforcement
Encourage consistent practice of the learned topics through homework and practice exercises to reinforce understanding. Engaging in regular exercises and homework enhances your child's grasp of the subject matter.
6. Encourage Independence
Encourage your child to find answers outside his lessons and classes.
A good tutor not only provides answers but also teaches the students how to find the solutions on their own.
Independent learning is an essential skill that needs to be cultivated in the students.
7. Utilize Resources
Make sure to take advantage of additional materials recommended by the tutor to enhance learning.
These will provide further insights into the topics and provide practice opportunities.
8. Be Patient and Supportive
Remember, learning is a continuous process and it takes time and patience.
Celebrate small achievements to boost your child's confidence, supporting them and the tutor.
9. Monitor Progress
Regularly assess your child's performance and progress.
If you notice improvements, discuss with the tutor how to maintain the momentum. If progress is slow, address concerns promptly.
10. Evaluate Teaching Methods
Periodically assess teaching methods of the tutor. Ensure that the teaching style and pace is still suitable for your child, adapt whenever necessary to keep the learning process efficient.
11. Show Appreciation
Recognizing and appreciating the tutor's dedication fosters motivation for consistent quality education.
Acknowledging their hard work serves as encouragement for them to maintain their commitment to providing high-quality education.
Building a successful learning journey not only requires commitment but also the creation of a supportive environment for your child's educational growth.
Effective strategies like goal-setting and open communication help establish clear expectations and ensure a fruitful tutoring experience.
Moreover, regularly evaluating teaching methods and showing gratitude for the tutor's efforts contribute to the overall success and effectiveness of the tutoring sessions.
It's essential to maintain a patient and supportive approach to foster a positive learning environment and encourage your child's progress.
A Quick Comparison Between
Group Tuition vs Individual Tuition!
A Quick Comparison Between Group Tuition vs Individual Tuition!
Individual tuition is similar to having a personal guide who is dedicated to supporting your child's academic journey.
Lessons tailored to suit the learning style and pace of your child are the standout features of individual online tuition classes.
Your child gets the full attention and support from the private tutor, which boosts their confidence gradually.

Let's have a look at the unique benefits of personal tuition classes.
| Advantages | Group Tuition | Individual Tuition |
| --- | --- | --- |
| Personalized Attention | Due to the large number of students there is little to no personalized attention. | One-on-one tuition allows the tutor to focus on his/her complete. attention on the individual student. |
| Tailored Learning Plan | Generalized teaching plans designed to meet requirements of the entire class. Not specific to any one student's needs. | Customized lesson plans and teaching styles targeting the individual student's strengths and weaknesses. |
| Focus on Weaknesses | Challenges and weaknesses of each and every student cannot be addressed. Time is spent to address the weakness of the majority of class. | Intensive focus on specific challenges of individual students, providing extra support whenever needed. |
| Flexible Learning Pace | Fixed pace determined by the majority, might be too fast or slow for some students. No change in pace to meet requirements of each student. | Learning pace is adjusted according to the student's understanding of the subject and his/her progress. Can be slowed down or sped up as needed. |
| Enhanced Learning Outcome | Learning outcomes are heavily dependent on the individual student's ability to keep up. Those who can't keep up usually struggle academically. | Higher potential for improved grades and deeper understanding of subjects as each lesson is tailored to meet the demands of the specific student. |
| Flexible Scheduling | Fixed schedules might not align with every student's availability. Students and parents have to work around the timings of the tuition. | Tutors can flexibly schedule sessions to suit the student's and parents' preferences. They align their timetable with the student's chosen slots or preferred timings. |
| Boosts Confidence | Some students might feel shy or overwhelmed to ask questions in a group setting. | Encourages students to ask questions and engage in open discussions freely. |
| Guidance To Continue their Academic Journey | No support for students continuing their academic journey or aiming for higher education. | Provides guidance for students in their pursuit of higher education, helping them identify suitable opportunities. |
Get Your IGCSE Tuitions Anywhere!
Locations We Are Dominating In India!
Didn't See Your Location? Don't Worry, You Only Need A PC/Tab/Smartphone
Angle's innovative online platform brings top-notch education right to your fingertips, no matter where you are in the world.
Book a free demo